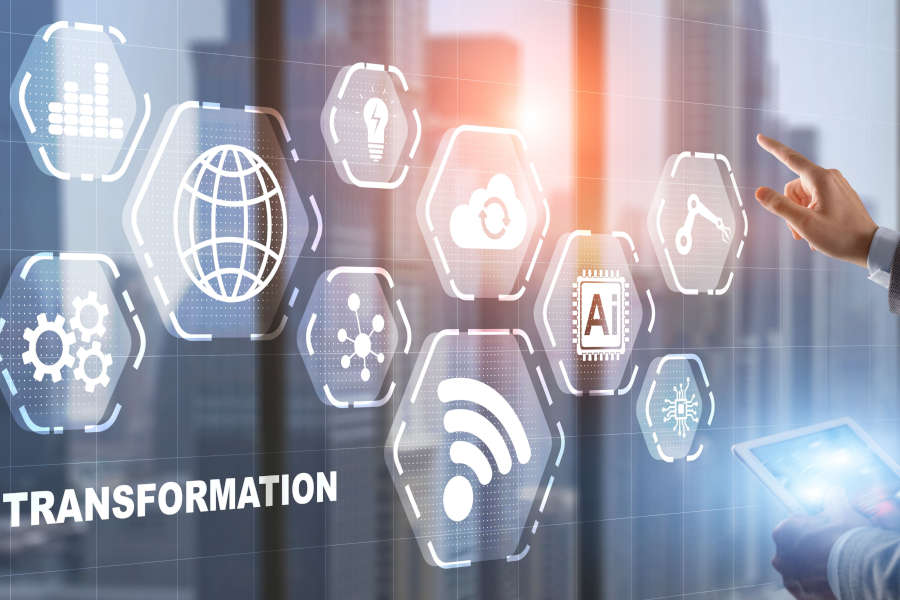 The Digital Transformation Journey to a Thousand Possibilities Starts with the Right Step
The COVID 19 crisis accelerated digitalization in most businesses, triggered by the restrictions for social distancing, work-from-home arrangements and other safety regulations imposed by government on one hand and the need to continue serving clients on the other.
The pandemic has taught us that we don't all need to be in the same room at the same time in order to organize and coordinate many of our business activities. Our customers now expect us to communicate, engage and do business with them through their smartphones. Our employees prefer the workplace flexibility that became common in the last couple of years. We need to keep in step with the competition as they introduce automation that will make their operations faster, more efficient and more resilient. The successful adoption of technology that allow all these to happen will be a primary determinant of growth in the post-pandemic world.
The implementation of an Enterprise Resource Planning software or ERP is the cornerstone of many digitalization programs. While there's no one-stop software to orchestrate all core business processes yet, ERP technology is getting better at connecting processes, systems, and data to enable the optimization of business operations. In addition, there are new tools with varying value propositions – such as workflow and RPA tools – to fill in special or tactical needs. The accelerating rate of technology innovation is even fueling the reexamination of old capabilities and business models. No one wants to be left behind.
Despite all the good intentions, however, attempts to adopt new technology have not always been successful. This is true even of something as basic as implementing a computerized accounting system. A common mistake that companies make when they go for a software solution is thinking the technology will be the magic bullet that addresses all the pain points of their businesses. And that is only the first of a series of problems that a company may face if they are not ready to approach the digitalization in a more holistic manner.
Adopting a Holistic Approach: a roadmap guide to implement technology solutions
Transformation doesn't happen overnight, it's a journey, a series of successive implementation of steps considering people, process, data, and technology.
1. Process First, successful technology deployments depend on process excellence
Most of the failed system implementations are caused by this common mistake of getting ahead into implementations only to find out that either the business processes are unknown, outdated, or inconsistent. This results in conflicting understanding of how the implemented system will function.
A detailed Business Process Review would give clarity to the requirements of each business unit in the organization, along with identifying the integration between departments. Reviewing your process first allows you to analyze your business operations, upgrade old processes, enhance any controls that were previously lacking, standardize processes across disparate business units and implement best practices. Likewise, involving end users in the review can help identify these process improvements and minimize their resistance to changes, hence, generating a sense of ownership and empowerment amongst the end user community.
Another common problem when implementing a new technology solution is not properly documenting the "should be" processes. It becomes an afterthought in the midst of the implementation. Over the years, knowledge erosion takes place as new employees come on, old employees leave, and so on. A Business Process Review can help "right the ship," and get the solution back on track as it was originally intended. Poorly defined business processes can lead to inconsistency across the business and confusion during implementation.
2. No Requirements Specification, No Aspirations
Ambiguities in system requirements often lead to project delays and budget runoffs. Thus, the features and services of the system or ERP need to be evaluated, configured, or activated according to the interrelated business needs identified in the Business Process Review phase.
Well-described Requirement Specification simplifies the work of the entire technology development team, and it simplifies the understanding of how the system should be implemented and how to properly design the architecture. In order to unambiguously understand the requirements for the software or technology product, it is important to complete the Requirements Specification, which contains highly detailed functional and non-functional requirements, behavioral models, user interface, user stories, etc.
3. Vendor and System Selection – Choosing the right partner
As the race to become technology champions becomes stiffer and with the new megatrends like cloud computing becoming more and more relevant, it is important that you can count on reliable partners – be it for the requirement of a product or a service – or a combination of both.
A common mistake is to just review the offer and judge the vendor solely on the proposal. Oftentimes, the capability of the vendor to go "the extra mile" to deliver are underestimated. Another common mistake is "not comparing apples with apples". This has become a typical situation if you there is no solid basis such as the Request for Proposal (RFP) for vendors as a guide. This will result in a situation where every proposal will come in a completely different form and can make it really hard to compare them.
4. Project Management during System Implementation, a clear vision in the expedition
After completing the Process Review, documenting the Requirements Specification, and choosing the vendor and system to be implemented, the job doesn't stop there to completing these activities and just rely on whatever updates the vendor may have on the overall completion of system implementation.
System implementation projects are complex and multi-faceted, without a proper project management process in place, the project may be at risk of not meeting all its deliverables or even failing because the different involved teams may begin working on a project without any clear vision or guidance, resulting in more frequent errors and confusion. Project management involves the use of various policies, procedures and principles to plan, implement and complete a project on time and in budget.
The journey to digitally transform your business requires careful planning and execution. Doing the right steps, as they say. There is no short cut and there is no such thing as overnight transformation. All the processes, people, data and technology comprising the work system should be considered to make sure that all the ingredients are present, aligned and mutually reinforcing – right from the beginning of your digital journey.